Do You Know How to Read Tower Garden Reviews Right?
If you have a limited space to garden, what to grow indoors, or if you want a simpler way to maintain your plants, than tower gardening is something you will want to know about. If you read tower garden reviews, people always talk about how easy it is to maintain the gardens, and they're not wrong. The best tower gardens are those that are set up to make gardening fun and extremely simple for the average person, not just for farmers.
You can grow anything in a tower garden, from a selection of your favorite flowers or even an herb and tomato garden. No more breaking out your best fertilizer spreader, because you won't be needing it for this new gardening project. The choice is up to you, you just have to get started!​
More…
Do You Know How to Read Tower Garden Reviews Right?The Benefits of Tower GardeningTypes of Tower Gardens​Tower Garden Systems​Stacked Pot Tower Gardens​How to Choose a Tower Garden System​How to Choose a Stacked Pot Garden SetTop 3 Tower Garden Reviews#1. Vertical Hydroponic DIY 4 Tower Garden System#2. Grow Up Vertical Hydrogarden Deluxe Planter Kit#3. Foody Vertical Gardens 8 Plant Hydroponic Tower GardenTop 3 Stacked Pot Tower Gardens#1. Tower Garden 2 – Composting 50 Plant Container#2. Mr. Stacky 5 Tier Stackable Planter#3. Akro-Mils Medium Stack-a-PotConclusion
Contents
The Benefits of Tower Gardening
Tower gardens can seem a little unnecessary if you already have a large exterior gardening space, but even than they can still be useful for you. The main benefits of tower gardens are that they take up far less space and a very simple to maintain.
Because the plants in a tower garden grow vertically, you can place them in a much smaller area without worrying about anything taking up too much space. Each plant will have its own pot of soil too, so no roots killing off other plants or fighting for nutrients. Tower gardens can be put inside to keep them growing all year around or outside to help you garden anywhere, and take up less space than a big dirt patch.
The other benefit, easy maintenance, comes from all types of tower gardens. Some are self-caring and will water themselves if you just keep a reservoir filled every week or so. Others can be watered from the top down, so you only have to pour above instead of moving around over a huge patch with your watering can. Not only is this a lot easier, it also helps you to conserve water.
Types of Tower Gardens​
There are two general types of tower gardens that much be differentiated, as they are not the same thing. Here are the key differences:
Tower Garden Systems​
A tower garden system refers to the complete, self-caring tower garden that waters itself and feeds itself. Most of these are hydroponic systems, which means they grow plants with highly enriched nutrient water instead of soil. This makes it easy for the system to take care of itself with just minimal work done by you. It also eliminates any need for weeding your plants.​
A tower garden system is usually powered by electricity or solar power, so that you only have to check up on it every once in a while to make sure everything is going well. You will have to enrich the water with more nutrients if levels start to deplete, and refill the reservoir to keep the plants going strong. Otherwise, these systems are basically self-governing and extremely easy to care for.
Stacked Pot Tower Gardens​
Instead of being a complete hydroponic system, stacked pot tower gardens are simply a collection of pots that can be place on top of each other in such a way that they easily grow together vertically. They will generally drain from top to bottom to make watering very simple, and will use soil instead of hydroponic growth.​
While you will have to maintain these pots like a regular garden, they are much easier to care for than a flat, horizontal garden. Weeding is usually unnecessary, as the plants themselves take up their own pots' worth of soil and don't leave any space for weeds. Plus, you don't have to move around to water them, as you can just pour from the top and the water will reach every pot.​
Some stackable pots will have a bit more complexity to them, but most are very simply and easy for anyone to get started.​
How to Choose a Tower Garden System​
Here are the things to check out when you're reading tower garden reviews for full systems:​
Height
There are a variety of heights for these vertical tower gardens, so make sure you get one that will easily fit where you want to put it. Also, if you're not a very tall person, you may want one that you can see the top of, because that is usually where you will add the nutrients and water.
Plant Capacity
If you're looking to grow just a few simple plants, you don't need a very large capacity. But, if you want a full vegetable garden than you may need a much larger capacity. Whatever you want to maintain and handle, look for that, because there are a lot of different options for you.
Power Source
Whether it's solar or corded electric could make a big difference on where you will place it around your house, deck, or yard.
Maintenance Needed
Those with a busy lifestyle will probably want a self-governing tower garden that takes little or no actual upkeep to grow plants. There will always been some small maintenance needed here and there, but some take more upkeep than others.
Hydroponic or Not
Growing with soil is very different than growing hydroponically. With a tower garden system, hydroponic growing becomes much easier, but if you don't want to mess with nutrients and pH levels in the water, you may just stick with soil gardening. However, if you don't want the mess that can come with soil or the possibility of weeding, try out a hydroponic tower garden.
How to Choose a Stacked Pot Garden Set
Tower garden systems aren't for everyone. If you just want something simple to start your own home gardening with soil, here are a few things to look for when you're reading stacked pot gardening reviews:
Height
Again, height is a key factor when looking at stacked pots. If you already know where you want to put the pots, make sure you have enough space for them to fit nicely without being too much trouble. Remember also that the taller it is, the heavier it will get as well.
Number of Stacks
The more stacks you have on each other, the more unstable it will be. I would advise you not to add any more stacks than the recommended amount that comes in each set, as you might put too much weight on the bottom stacks and cause them to break or fall over. Stick to a modest number of stacks, and be a bit wary of those that are listed as 10 or more stacks, as these will probably be quite unstable.
Plant Capacity
Choose your stacked pots based on how many plants you want to grow in your home garden. Remember that more plants equal to more maintenance, but a bigger garden also produces more for you. Since the plants will all be in one place, you may not have any trouble taking care of them.
Shape
Stacked pots can be very wide or skinny and tall. Measure out your intended space and see what kind of shape it can hold for plants. Also, some are square or rectangles while others are circular. In my experience, no shape is better or worse than any other, as long as each plant gets the light and nutrients it needs to grow properly.
Extra Features
As I mentioned before, some stacked pots have a few extra features that can make them more complex, yet also more effective. Two of the most common features you'll see are irrigating grip systems and built-in composting. Using vermicomposting, you can actually put your organic waste to use by directly putting it in your plant pot and having the nutrients spread around as they're available. It's healthy, great for the plants, and helps you reduce your household waste.
Drip irrigating can be a convenient way to make sure you don't over-water your plants, but it's also just easier than watering normally. Some plants have a reservoir that you can fill, which slowly releases the water to all plant pots. Others have a hose connection point that will drip irrigate when you turn on the water.​
Top 3 Tower Garden Reviews
If you want the complete package to start off your hydroponic garden, you can't get any better than this set. It comes with absolutely everything you need in a very convenient setup. This is for outdoor gardening only, and it includes the poles, the garden tiers, the irrigation system and timer, and all the nutrient and pH materials you'll need to get your garden going. Plus, there's an instruction manual to guide you through the hydroponic process.
Up to 80 plants can be grow in these pots in their own separate areas. This amounts to 20 plants per tiered container. Any type of plants can be grown in these containers, as long as they're not heavy or requiring too much space (such as watermelons, squash or bushes).​
What we like:
You will never need to weed this garden
Irrigation system has a self-timer for easy and consistent watering
Easy to grow a full vegetable garden, up to 80 plants
Plastic material is safe for growing edibles
System is easy to set up in your own garden
Works reliably for years
What we don't like:
Not ideal for areas that reach very high temperatures
Pots may break if your plants grow too large
This is a sturdy, self-contained system that works well to keep your plants healthy and growing quickly. It's a very water efficient system that uses 90% less water than the average garden. Large vegetables and plants can be grown in this system, as long as they are planted on the large stacks.
Only 4 square feet of space are needed for this tower garden system to thrive. You can keep it indoors or outdoors and have the same great results. This particular kit includes all the pieces needed to assemble the tower, the nutrients for growth, growing medium, and an instruction manual to get you started.
What we like:
Takes up little space
Usable inside or outside
Space for 20 different plants
Works well on a back deck or porch
Attractive appearance to added appeal in your garden, yard, or indoors
What we don't like:
Not expandable. You need a new system if you want more plants
Reservoir lid has broken for some customers
This tower garden has as different design than some of the others, as it allows a bit more open space for the plants to grow upwards. It's recommended to plant heavier plants on the bottom, so they can grow down and produce fruits closer to the ground and not weigh down or break the tower. You can plant any type of vegetable you want on this tower garden and have success year-round.
This takes up about 2 square feet of space when it's occupied by plants, meaning it can go indoors easily if the weather isn't favorable in your area. Make sure if you do take it indoors you will protect the floor underneath it. Automatic watering is part of the built-in system of this tower garden, as well as nutrient dispersal, so you don't have much to do other than monitoring levels and checking plants. It also has everything you need to set up your pots and tower and start the project.
What we like:
Great for up to 40 plants, including large plants in the bottom pots
Works well inside and outside
Ideal for warmer climates and seasons
Easy to get this kit started
What we don't like:
Difficult to move around unless it's placed on a wheeled platform
If individual parts break, they can be difficult to replace
Top 3 Stacked Pot Tower Gardens
If you want the complete package for stacked pot gardening, this is a fantastic kit to get you well on your way. The most interesting thing about this pot set is that there is a built-in vermicomposting container in the middle of the pot. All you have to do is add the worms and keep putting in new compostable materials, and the plants will directly benefit from the nutrient-rich soil you're creating, without you having to spread it around.
In order to help you reach the plants more easily, this pot stack rotates around for increased access. It can hold as many as 50 plants, including large and small plants. When it's fully in use, it takes up around 6 cubic feet vertically, so it's a decent size for indoor and outdoor growing.
What we like:
Capable of handling around ½ a gallon of organic kitchen waste daily once compost is going well
Fantastic choice for greens like lettuce, kale, broccoli, etc.
Useful inside with grow lights
Rotating stacks help you reach all the plants when you need to
Convenient and easy to use system
What we don't like:
Not ideal for heavy plants with larger fruits
Compost tube is difficult to stir when needed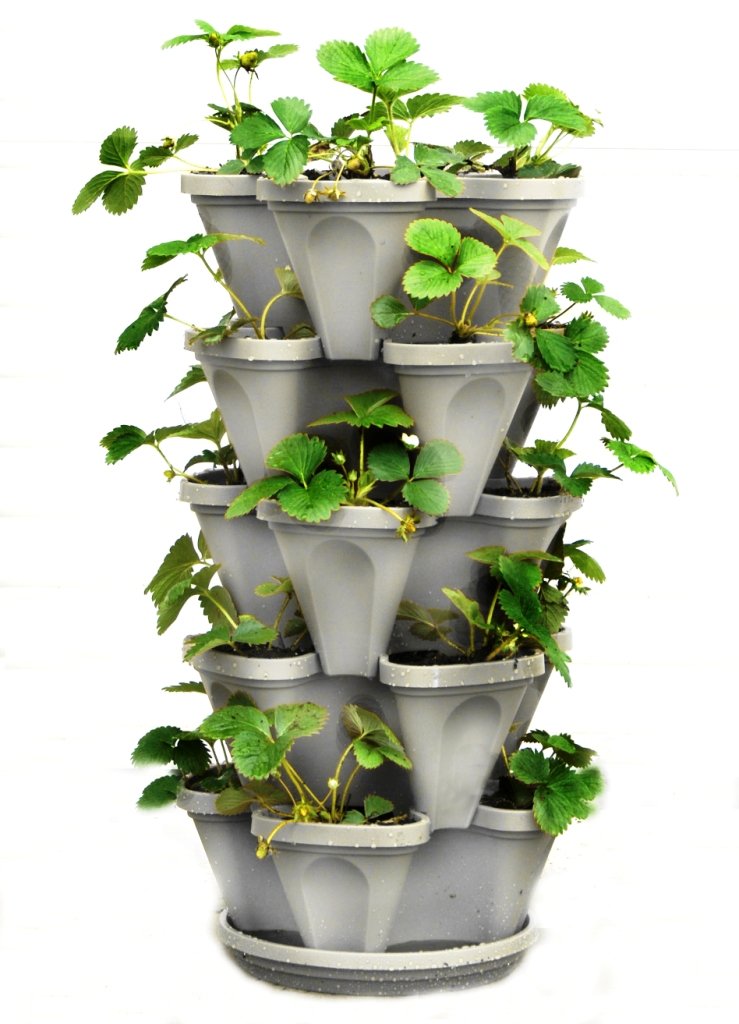 If you want a simple way to start vertical gardening outdoors, this is a nice set to get you on your way. It consists of 5 stacks with 4 pots, for a total of 20 garden plants in one tiered tower. You can easily plant what you want and get good results for vegetables and flowers.
The flow design implemented on each of the stacks helps water to drain from the top to the water when you're watering the plants. This will help you to save water and also do the watering much faster.
What we like:
Weeding is rare and almost completely unnecessary
28 inches when assembled – great for use in tight spaces
Ideal for small to medium plants or vegetables
Great for a large herb garden
What we don't like:
Plants may get uneven sunlight and should be arranged accordingly
Not good for larger plants, as the pots are a bit small for large roots
This three-stack plant pot tower is a good place for a small garden with all types of plants. It can hold up to 9 plants and is available with 14-quart and 30-quart sizes for various types and sizes of plants. If you're just starting out, this is a really nice set to start with, as it's small enough for easy maintenance and can hold small-medium plants very easily.
Water from the top of this stack to get the best results, as the water will easily drain down to the other pots below. If you're not growing at any time, you can easily take down the stacks to store them for your next growing season.
What we like:
Great size for your patio or balcony, or even indoorsIdeal for succulents, green leafy vegetable, herbs, and other small plants
Capable of stacking more than 3 per tier
Works with soil or hydroponic gardening
What we don't like:
This stacked pot tower needs to be stabilized with a small metal bar inside to keep it more stable
Top plants generally do better than lower plants in taller stacks
Conclusion
Depending on whether you want a tower garden system or a stacked pot tower, the tower garden reviews above can help you find a good product the get you started. For a tower garden system, I would recommend the Vertical Hydroponic DIY 4 Tower Garden System. It's a fantastic kit with everything you need to get started. It's got a lot of space and must be used outside, but everything is done automatically and you won't have to put much effort in to end up with a great garden.
For a stacked pot garden, I would recommend the Mr. Stacky 5 Tier Stackable Planter as the best tower garden. It's stable and holds a lot of plants at full size. This is a very convenient way to start out your garden, and it won't take up too much space. Plus, the top to bottom water flow system reduces your effort in equal watering by a lot.​