Best Hydroponic Nutrients 2022 – Reviews and Buyer's Guide
Editor's Choice
Do you need to go through several bags of fertilizer to get the world's best hydroponic nutrients?
Not really, but you will need a good idea on what to look out for. Some plants may require specific nutrients, but for the most part and at the first stages of growth, there will be little to no distinction.
These are some of the most potent hydroponics nutrients for various plants. You can also use them for other mediums, but on differing frequency.
More…
Contents
Hydroponic Fertilizer For Your Patch
No
Brand
Nature
Form
#1
General Hydroponics Flora Grow (Editor's Choice)
Synthetic
Liquid
#2
General Hydroponics General Organics
Organic
Solid
#3
Lettuce Greens and Herbs Hydroponic Nutrients
Blend
Solid
#4
Synthetic
Solid
#5
Synthetic
Liquid
---
Note that this solution can be too strong as it is ideal for both soil and hydroponic systems. As such, it can damage plants if used the wrong way. Ensure to follow the instructions to the letter to avoid damaging plants.
While most companies will price singular products for each growth cycle, General Hydroponics sells this nutrient solution in a three-pack deal that covers all three main periods. More importantly, each of them is balanced to meet that stage's requirements.
The labels tell you of the components and ratios, and even go on to stipulate how much you should use. You may need to apply your discretion here, as many reviewers note that they had to use less than was advised. Again noting that this solution is quite strong, you may need to observe and adjust accordingly.
This pack contains the required blend of macro and micronutrients, and each of the three products is meant for a certain growth cycle. Reviewers have noted that they are quite strong, almost too strong if you venture a little out of the required measurements.
Naturally, a three-pack is cheaper than individual products. The Trio's shelf life (when opened) is longer than a year, as long you store it according to instructions.
It is easy to apply: once for the first three weeks, then progressively as your plants enter the next growth cycle. Everything is in the manual.
What we like:
A little goes a long way.
These products are cheap.
It has a pH of between 5.5 and 6.5
What we don't like:
Too strong and will damage plants if you use too much.
The manual cold be more detailed.
---
You will have to endure the foul smell (think compost).Well, but is not too and that you cannot stand it, but it takes some getting used to. It gets the job done, though.
General Hydroponics have this pack of organic nutrients for those who prefer them to the synthetic kind. There was talk of organic nutrients damaging hydroponic systems, but there is no evidence if this yet. More companies are venturing into organics.
This six-pack contains nutrients for the various levels of growth. Right when you plant, use Grow, Root, and Seaweed for strength until plants establish their stems. The manual directs on the frequency of usage, and most reviewers recommend twice a week.
CalMag, Marine, and Bud are ideal for blooming and flowering. You will need to mix the all up in a container before adding them to your mixture (for the best results).
The downside to these products is that you will need to use the whole lot of them every time, and they will need a thorough mix. Tedious, but worth the effort according to users.
The company says that the product is 100% organic, although they have said nothing about it being OMRI listed.
Worth noting is the fact that this solution is easy on plants, and you can go over the recommended dose without damaging plants. It also has the ideal ratio of macro and micro elements.
What we like:
It has some organic elements.
Has the ideal pH for most plants.
Quite cheap.
What we don't like:
You will need to use more for efficiency.
It needs thorough mixing.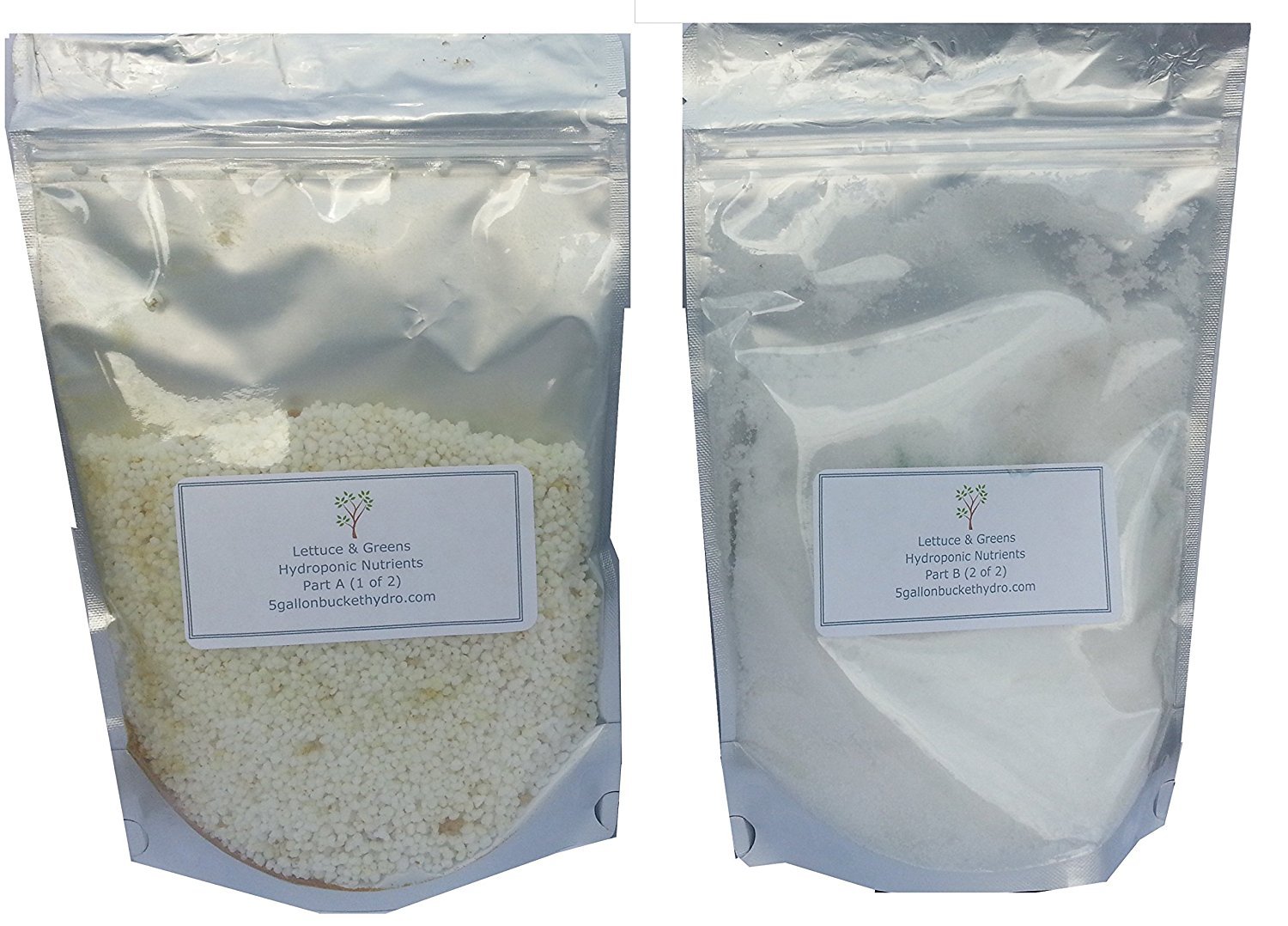 Good as it is for vegetables, it is in solid form, and so you will have to put in some work mixing it all together.
While most nutrients are multi-user, and hence ideal for all plants, this brand caters to vegetables and herbs. Why does that matter? Because vegetables are unique in their composition, and they will need for a unique set of nutrients.
This nutrient pack is solid, and so you will need to pre-mix it thoroughly, as well as stabilize your water's PH before use (by leaving it to set overnight).
This pack contains five macronutrients: magnesium, calcium, potassium, nitrogen, and phosphorus. The manufacturer says it also has six micronutrients that go from Grow to Bloom.
The NPK ratio for an 185mg/L pack is 24:6:25. The package comes with a measuring cup and instructions for use, but you will need to get a pH adjuster for it (preferably phosphoric acid).
Because these hydroponics nutrients are complete, there is no need to add any other component when prepping the solution.
Cost-wise, we find this product n the higher side, considering that you have to use it every day to get the desired results. The upside is that vegetables experience explosive growth. It is not too strong to ruin plants, and so you can adjust your measurements as you suit.
What we like:
Ideally suited for vegetables.
It has all nutrients (macros and micro).
It will not damage crops even when you use more than recommended.
What we don't like:
The daily preparation process is tedious.
You will have to figure out how much to use.
Sadly, it brings your solution's pH down. It can go as low as 3.2, and so you will need to boost it back to normal levels. Luckily, there are several pH stabilizers on the market.
General Hydroponics Maxigro has the ideal nutrient composition for a vegetable garden. It boosts roots in cherry tomatoes, chilies, cucumbers, and practically every little gardening plant.
It comes with a measuring spoon for effect, and the manufacturer has given instructions on quantity. Now, this product is primarily meant to grow roots and establish some base for your plants. You will need to buy a different product to move it to flowering.
Is it cheap? Not really, seeing that it is mainly a vegetative agent. A little goes a long way, though.
General Hydroponics Maxigro is in solid form, and you will need to mix a little each morning for your hydroponics solution. Though tedious, it saves you the handling fees you would have paid for the liquid product and the hassles of storage.
The NKP ratio is 10:5:14, and the label says it contains a host of micronutrients. Well, the nutrients are synthetic, and so the plant absorbs them pretty fast (hence the explosive root growth), and hence the high ratios.
What we like:
Effective because roots shoot almost immediately.
Nutrients are well balanced.
Does well with tomatoes.
What we don't like:
A bit expensive.
It will need a pH stabilizer.
It works well for the vegetative cycle, but you will need to mix it with a flowering stimulator when you move to the boom period. Good thing it is in liquid form, and so you do not have to mix it beforehand.
Strawberries are sensitive, and so they will need delicate handling. They need a pH of between 5.5-6.0, b you can push it to 6.5, and they'd still survive. The nutrient composition is also very particular, as is the atmospheric requirement.
This nutrient solution attempts to get to those levels, with an NPK ratio of 3-1.5-4. The manufacturer indicates that the solution has all the required macro elements. It also has amino acids and 72 traces of micronutrients that add value to hydroponics.
You will only use it once a week in your hydroponic solution. Depending on the water you use, you may need to boost the levels of your solution's pH. Fr the best results, use water filtered using reverse osmosis.
What we like:
Cheap as it sells by the gallon.
It boosts root development to give plants a good base.
It has the ideal blend of macros and micros.
What we don't like:
It lowers the pH of your solution.
It is not an organic product, and so too much of it will do more harm than good.
---
pH Testing Accessory
Your medium will need to be the perfect balance in pH so that plants can thrive. This is certainly going to be a challenge with hard water. Most manufacturers advise using filtered or even distilled water, and especially purified using reverse osmosis, and so you will need a pH tester to be sure that you have the right balance.
pH levels vary from plant to plant, but hardly will they go below 5.5 or higher than 7.5.​
This pretty affordable liquid measures levels ranging from 4.0 to about 10.0 for clear liquids. You will only need to pour a few drops of the solution into your medium and compare the results with the color chart that comes with it.
The liquid (in a squeezable bottle) is only 15ml, but a little goes a long way. The color may not always match what is on the chart, but it will come close enough to give you a clear indication.
Building Blocks Of An Ideal Hydroponics Solution​
Because hydroponic systems involve growing food without soil, (the common medium of nutrient transfer), you will need to provide nitrogen, phosphorous, and any other nutrients through water. Your chosen nutrient solution will need to encapsulate all these without overwhelming the plant.
What nutrients do plants need? Primarily, macro and micronutrients.
For macronutrients, you have nitrogen, phosphorous, and potassium.​
Nitrogen (N)​

Nitrogen is the core of any plant, seeing that it is responsible for leaf production. You know that there is no chlorophyll synthesis without green leaves. Telltale signs of a nitrogen deficiency include yellowing leaves and stunted growth.​
Micronutrients
Macros alone will not get the job done. Your ideal solution will include magnesium, zinc, sulfur, iron, copper, calcium, and boron. Each of them plays a major role in the development of plants and ensures that your patch of hydroponics reaches maturity.​
Ideal Ratios of Macro Nutrients
In the initial stages of growth, a plant will need more potassium for healthy development. So, the ratio of Nitrogen to Potassium should be 1:1, to keep the plant in vegetative growth.
During bloom, the plant will now require a significant amount of phosphorus to flower, but also a constant amount of Nitrogen to be complete. The ideal ratio at bloom will be N:P:K =1:1:2.​
Before Buying Hydroponic Nutrients, Consider These Factors
#1 – Nutrient Composition
You want all the macro and micronutrients present to give the best to your plant. Having the ideal balance is not enough, but you also want to have them in the ideal composition. The N-P-K ratio, (Nitrogen-Phosphorus-Potassium) will be on the package to let you know whether the nutrients are ideal for that stage of growth. (1)​
#2 – Organic Or Synthetic?
Organic fertilizers work best on soil since the nutrients are sent into the medium (soil) and drained (not reused). The same cannot be said of hydroponics, where water stagnates, and organic matter may clog the systems.
Tests are being done to introduce organic nutrients to hydroponics, but synthetic is the best option at the moment. The nutrients are broken down easily and availed to the plants sooner. In the same vein, the N-P-K ratio of synthetic nutrients is higher than that in organics.
#3 – What Is Your Budget?
Well, as subjective as this topic is, you should always shop around for price comparison. As long as your preferred product contains all the required nutrients, you will not need to spend your last dime on the biggest name.
#4 – pH Level Of Nutrient Solution
PH, the measure of alkalinity and acidity, will determine the ability of a plant to absorb minerals and nutrients it requires for healthy growth. Too much of it will damage the plant, and too little will lead to stunted growth and eventual death.
Although the requirements differ from plant to plant, most will require a slightly acidic environment to grow at their best, and so levels between 5.8 and 6.2 are ideal. However, you can still push it to the 5.0 and 7.0 ranges without affecting growth.
#5 – Powdered Or Liquid?
Hydroponics nutrients often come in either of the two. Powdered nutrients need to be dissolved fully into water before they are used. They lack pH buffers at times, a quality that makes them unpopular.
Most liquid nutrients, on the other hand, come with pH buffers, so you don't have to tame the pH of your water. You will only need to add the solution to water and proceed.
The Best Hydroponic Nutrients For Vegetables and Fruits
Name
Best Overall
2nd
3rd
4th
5th
Product
General Hydroponics Flora Grow (Combo)
General Organics Go Box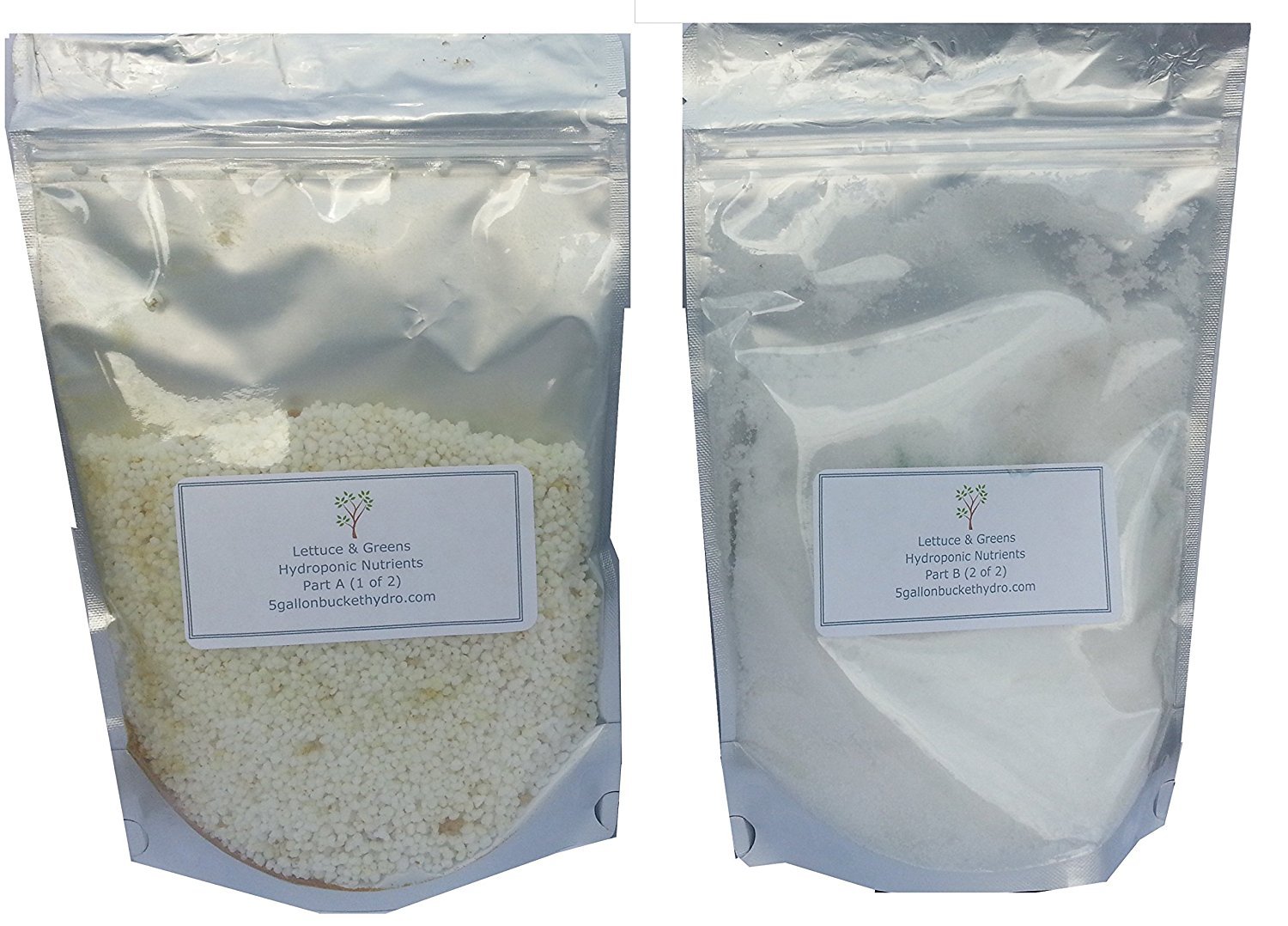 Greens and Herbs Hydroponic Nutrients
General Hydroponics MaxiGro
Pure Blend Pro Grow
Brand
General Hydroponics
General Hydroponics
5Gallon Bucket
General Hydroponics
Botanicare
Growth Cycle
Synthetic
Organic
Blend
Synthetic
Synthetic
Get it Here
AmazonAmazonAmazonAmazonAmazon
And The Winner Is …
Liquid hydroponic fertilizers are still the best because they minimize the work you have to do. You will only need to test your water's pH and then mix as per the directions. Additionally, synthetic solutions absorb faster into the plant and produce results in only a short while.
General Hydroponics Flora Grow not only comes in a Trio, which takes your plants from growth to bloom, but it is also reasonably priced. Just a little goes a long way! Its composition of macro and micronutrients alike makes it a winner.​
Image credits: Amazon.com