5 Best Folding Saws Reviews 2023 – An Ultimate Buyer's Guide
Haven't you had enough with that old folding saw? What do you do when that old folding saw gives out on you, when the thought of repairing it frustrates you?
Now that you think about that bush of roses that needs pruning, how will you do it? Well, we have an answer for you – get a new folding saw. That old one with a flimsy handle and a blade that can't stay put may cause you your finger.​
Though searching the market for the next replacement folding saw is challenging, we've got your back with our comprehensive review of our five favorite folding saws for pruning as well as survival in the wild. This review will save you time and money.​
More…
Product Name
Quality
Price
Our Rating
Bahco 396-LAP Laplander (Editor's Choice)
High
$$
High
$$
Silky Professional Series BIGBOY 2000
High
$$
High
$$
High
$$
**Below, you'll find our more detailed reviews, but you can also click the links above to see current prices or read customer reviews on Amazon.
5 Best Folding Saws Reviews – An Ultimate Buyer's Guide#1 – Bahco 396-LAP Laplander#2 – Corona RS 7265D – Ideal for small to medium-sized branches#3 – Silky Professional Series BIGBOY 2000 – for cutting green and dry hard wood.#4 – EverSaw FOLDING HAND SAW – Best for Tree Pruning, Camping, Hunting, Toolbox. Rugged 8" Blade, Solid Grip.#5 – SPORTSMAN FOLDING SAW – This Professional Hand Tool Trimmer is the best Camping Gear – Survival Kit or Gardening. Perfect Tree Pruner for LandscapersWhat should you look at when buying a folding saw?The useComfortType of blade and the material​​Lefty or rightyTeeth​Reviews​Price​Compactness and portability​SafetyConclusion
---
Contents
If you have been planning to get some work done in the garden by yourself; not because your gardener does a shoddy work or because you are extremely broke, but just because you are looking for a new way to relax you may consider this folding saw, my personal favorite.
First, it will stay with you through many years pruning trees in your garden or accompanying you in the wild thanks to the blade's rust protection and its low friction. It has 7TPI, making it ideal for smoother cuts. It uses an XT toothing technique.
For a strong grip, this folding saw has a two-component plastic handle with a leather strap. As a result of the well thought-out ergonomics of this saw, it feels comfortable when holding and using it. Therefore, I find this folding saw perfect for tougher tasks.
The 71/2-inch blade easily cuts through green or dry wood, bone, or plastic. If you are an outdoor enthusiast; talking about the campers, the hunters, and any wildlife enthusiasts – this might be your best go-to folding saw.
You don't have to worry about safety when using this saw because it comes with a safety lock to lock-in or lock-out the blade. Bahco also incorporated a push and pulled stroke to their folding blade.
What we like:
Easy to carry around thanks to the safety lock-in and lock-out feature and the tough folding sheath
The blade has rust-protection features enhancing its performance and reducing friction.
Ergonomic design makes it comfortable to use, and it holds well in the wild pruning bushes easily.
The 7 per inch teeth makes for smooth cuts quickly.
It cuts both forward and backward
What we don't like:
Well, it is too sharp, and if you aren't too careful, you may get a bad cut.
---
#2 – Corona RS 7265D – Ideal for small to medium-sized branches
This is a 7-inch replacement blade, with razor teeth and curved for faster cutting. All the cuts made by this saw are clean and makes for the best pruning and cutting of branches. The razor-sharp teeth are 3-sided enhancing their efficiency.
The teeth are also triple-ground impulse-hardened for extra strength, and this triple strength makes for removal of 3X more material pulled per stroke. To reduce friction and to increase efficiency, the blade is chrome-plate which is self-cleaning.
The other nightmare I faced with other folding saw brands is the loss of sharpness, and this isn't an issue with this saw designed with an SK5 steel blade with a higher carbon. This makes the steel harder meaning that it retains its sharpness for a longer time.
If you are scared of getting blisters when cutting down those branches, you shouldn't because this Corona blade has an ergonomic design thanks to its co-molded handle. After many attempts to buy the best folding saw, this one worked well for me because, besides its functionality, it also comes with a limited lifetime warranty.
Unfortunately, besides having all these features, depressing the latch for the saw to open up can be tedious. It also locks at one position while other brands have more than one locking position.
What we like:
The chrome-plated blade self-cleans and reduces friction, increasing efficiency.
It is versatile, and the variable lengths mean that the replaceable blades attach to different handle types like folding, D-Shape, or the fixed with finger hook.
Triple-ground impulse-hardened teeth remove up to three times materials pulled per stroke.
Higher carbon on the blade hardens steel keeping the blade's sharpness for a longer time.
Has an ergonomic non-slip design for comfort when cutting.
What we don't like:
It has one locking position
It is tedious to open the latch
---
If you are an outdoor worker and have been searching for a strong folding saw designed exceptionally with a superior quality finishing, then this might be your best pick.
Its blade measures 14.5 inches and has 5.5 teeth per inch. It weighs 1lb, and the other favorite feature is the blister pack.The fast-cutting action is a result BIGBOY's design which utilized Silky's MIRAI-ME tooth technology, a patented technology for BIGBOY's saws. This technological application also leads to the blade's long life.
The performance of this blade also results from the chrome-plated blade and the uniquely-shaped low angle curve (2,000mm radius) of the blade which makes it possible for cutting of branches smoothly and fast.
For an extended working reach, an effortless handling and faster cutting, you have the well-balanced taper-ground blade. This blade is impulse-hardened and has a non-set tooth design. A comfortable grip is the result of the two-handed rubberized cushion and non-slip handle.
What we didn't like from this highly rated folding saw is this: when you fold it, some teeth remain exposed, and the blade doesn't lock in its closed position meaning that you'll have to countercheck the position of the teeth when you put it in storage.
What we like:
The non-slip two-handed rubberized cushion gives it a comfortable grip.
It cuts fast and smoothly because of the chrome-plating
The blade has a longer shelf and working life because of Silky's MIRAI-ME tooth technology.
It comes with a blister pack
What we don't like:
Some teeth remain exposed when folding the saw – it doesn't close as well as it claims to.
Unfortunately, there are reports of the blade losing its sharpness after a short time.
---
#4 – EverSaw FOLDING HAND SAW – Best for Tree Pruning, Camping, Hunting, Toolbox. Rugged 8" Blade, Solid Grip.
This is it! If you are tired with the flimsy folding saws with weak plastic handles, the kind with unsafe pop button, the saws that lose their sharpness too fast or the ones with nonadjustable knobs meaning they get wobbly, and they get work done as expected, then, this is your folding saw.
What makes this the best folding saw?
EverSaw 8.0 is a sturdy folding saw with a solid, and it has a gear style lock for safety. To stay sharp, this saw has a design that gets rid of binding and also reduces friction. In case it gets wobbly, you get to tighten it, and the teeth don't remain exposed when you fold it in.
The durability of a folding saw depends on its ability to resist the forces of wear and tear. This saw has triple cut teeth hardened to resist wear and to stay sharp. It cuts thanks smoothly to its design which incorporates nine teeth per inch (TPI) and the durable carbon steel blades which are light, stay sharp, and are flexible.
The blade extends to 17 inches from 8 inches, and when you close it, it measures just 9.5 inches and weighs 10 oz.
If you worry that you will get tired real fast pruning the fruits and flowers in your garden, then you won't have to once you get this folding saw with its ergonomic design as well as the slip-resistant handle that makes for a comfortable grip. At the same time, the uncoated blade will allow for less friction and a smooth push and pull flow.
For safety, this saw has a lock in blade system which won't snap or collapse when you are cutting or closing. You may also want to that the designer for their inclusion of adjustable bolts which connect the handle to the blade and makes for easy tightening or loosening. I kept this safe folding saw in my pocket and had zero safety concerns.
Lastly, the feature that placed this saw in my favorite list; is the Japanese style pull cut saw.
It is, therefore, the best folding saw for backpacking, camping, pruning, hunting, and for general household work. You can also have it as an emergency or a survival utility tool. It easily cuts up to a 4-inch diameter of plastic, bone, and wood.
Unfortunately, this saw doesn't come with a sheath​
What we like:
Japanese style cutting
Lock-in blade system for safety
Triple hardened teeth resist wear and tear
It is versatile and works on different materials in different areas,
Lightweight but sturdy
What we don't like:
It doesn't cut through big pieces of wood or plastic because of the small and closely spaced teeth.
---
#5 – SPORTSMAN FOLDING SAW – This Professional Hand Tool Trimmer is the best Camping Gear – Survival Kit or Gardening. Perfect Tree Pruner for Landscapers
This is a durable and a sturdy folding saw for all your landscaping needs thanks to its aggressive and sharp razor high carbon teeth whose metal shank travels 3/4s into the handle.
Carbon reinforcement enhances the strength of the blades. The introduction of the tough nylon sheath that has a belt loop makes it one of the safest folding saws on the market.
An important consideration when buying folding saws is the length and the size of the folding saw. This 10-inch blade ensures that you get the work done in the expected time by ripping through limbs and bones faster than any blade saw.
The curving on this long blade equals longer strokes which shorten cutting time significantly. As you experience the fast cutting action from the saw, you might also appreciate that the saw's handle is comfortable and with an ergonomic design. The handle's got a rubber grip.
These features make this folding saw the best saw for clearing hedges, trees, and pruning of bushes. Whether you are going out camping or doing some gardening over the weekend, this is the best folding saw.
What we didn't like about this folding saw:
Unfortunately, you require both hands to close this blade. Since the teeth are sharp, they can cut your finger easily if handled carelessly. The handle is somewhat flimsy.
What we like:
It comes with a tough nylon sheath enhancing safety when in storage or transportation.
It has a secure grip thanks to the tough ABS + TRP (thermoplastic rubber) of the 12-inch handle. The handle also has an anti-slip rubber pattern.
It is durable as a result of the triple-ground 65Mn steel teeth
It cuts quickly thanks to the strong seven razor sharp teeth per inch sharpened on the three sides.
It comes with a strong metal adjusting tension lock with a nut in a steel bracket.
The company's customer service is excellent
What we don't like:
You'll need to use both hands to fit the blade in the folding sheath.
The teeth are too sharp, and you may easily cut your fingers
The handle might feel a little flimsy
---
Features
Bahco 396-LAP Laplander
Corona RS 7265D
Silky Professional Series BIGBOY 2000
EverSaw FOLDING HAND SAW
SPORTSMAN FOLDING SAW
Image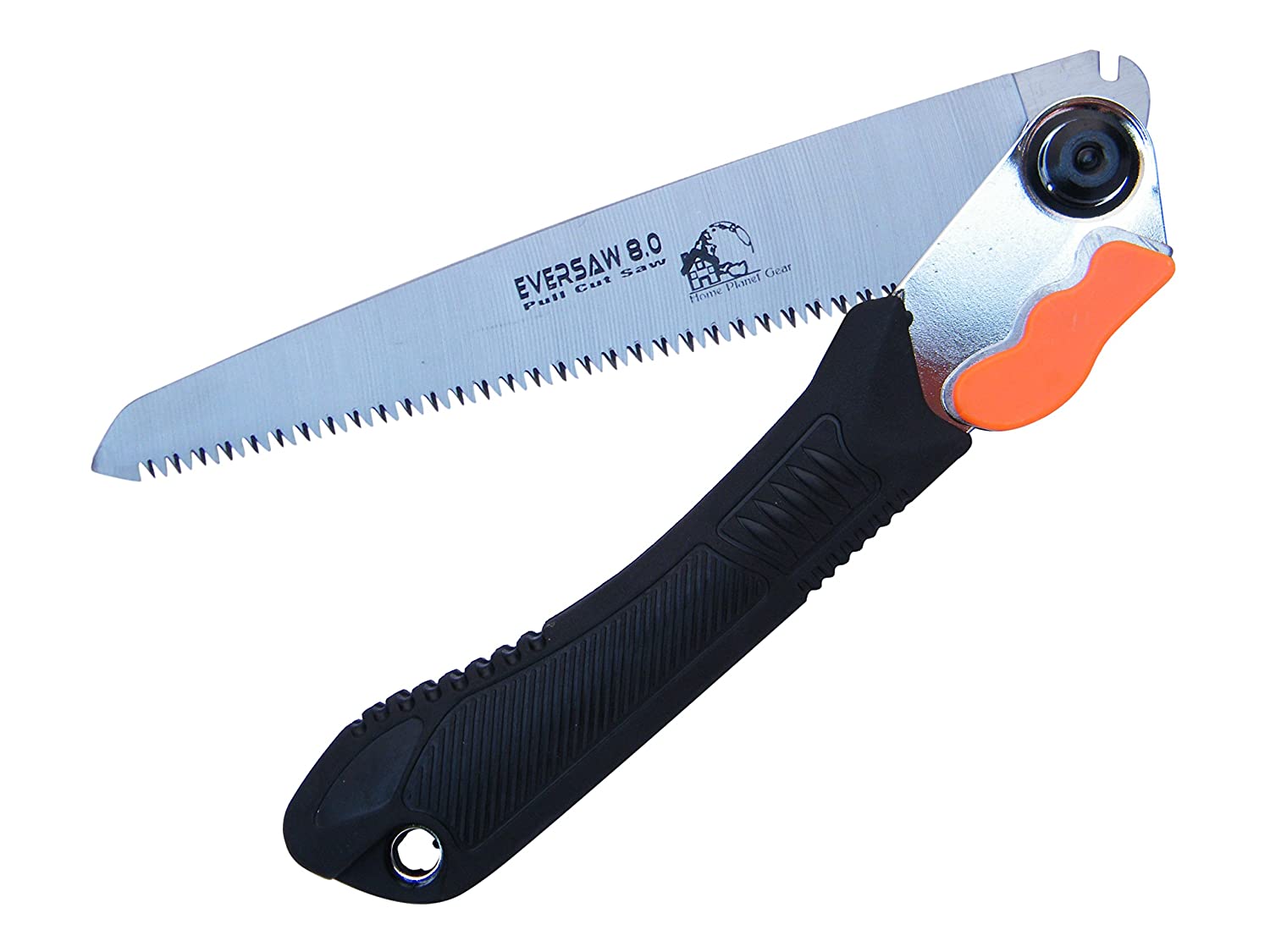 Length
7.5 inches
10 inches
14-1/5 Inch
8 Inches
10 Inches
TPI
7
6
5.5
9
7
Type of saw
Hacksaw
Pruning
Multi-Purpose
Multi-Purpose
Multi-Purpose
Weight
7 ounces
12.8 ounces
16 ounces
10.1 ounces
11 ounces
Color
Green
Black and red
Orange
Black and orange
Black and green
Get it
View ProductView ProductView ProductView ProductView Product
---
What should you look at when buying a folding saw?
The use
What do you intend to use the folding saw for? This has to be your guiding question. There folding saws for pruning, for camping, and others fit both uses. Ensure that the folding saw suits the intended purpose.
A rule of the thumb – a folding saw, especially the one for pruning works on branches between ½ inches wide up to about 5 inches. If the branch is more than ten inches, you may consider getting a chainsaw.
---
Comfort
How do you determine the comfort levels achievable with the folding saw? Look for a folding saw with a superiorly designed but an easy to grip handle. Keep the size of your hand in mind, as well as the size of the saw and also consider the comfort of the saw with gloves on.
Look for ergonomically designed handles. A good place to get information on the saw's comfort is from user reviews.​
---
Type of blade and the material​
Is the blade straight or curved? We found that curved blades are better with smaller branches while the straight blades are okay with thicker branches. The best folding saw material to look at is an alloy. Steel and carbon allow or chrome-plated saws are more durable. Alloys are also sharper, and they have exceptionally high tensile strengths.​
---
​Lefty or righty
Some good folding saws' designers fail to factor in left-handedness. By including an operable lock, a folding saw becomes impossible for use by a left-handed person. Therefore, if you are left handed, then you'll have to consider a saw without the operable lock.​
---
Teeth​
You have to pay close attention to the number of teeth per inch. A higher number of teeth per inch mean that you'll get smoother cuts. You should also keep in mind the size of the teeth. Larger teeth cut faster. Ensure that the teeth will give you dependable performance.
---
Reviews​
You learn a lot about a folding saw by taking a few minutes to peruse online reviews. The experiences of others will guide you to know if you should get a saw or not.​
---
Price​
Even though there is a big temptation to get the cheapest saw on the market, it shouldn't be. Most inexpensive saws are flimsy. Here is a secret, think of the purchase as an investment and buy a high-quality folding saw even if it looks too expensive. Look at the long term value of the saw.
---
Compactness and portability​
Look at the folding mechanism – it should be easy to manage and fold or open regardless of the intended use.​
---
Safety
Your hand must be safe when using the saw. Look at the gripping material on the handle as well as the folding compartment. The presence of a storage sheath is an added advantage.​
---
Conclusion
You'll note that there are many types and designs of folding saws on the market and though confusing, a few things stand out – their purpose, the size, and the step-by-step use. Having reviewed five of the best folding saws, we have Bahco 396-LAP Laplander as our best saw. Its XT toothing, the 7 TPI, and a blade coated well to prevent rusting while lowering friction are some of our best features of this saw.
The leather strap and the two-component plastic handle makes for the saw's perfect grip. It is also safe thanks to the safety lock which allows for a lock-in and a lock-out, and you won't have to worry about accidental cuts because of the teeth not being closed away safety. It is an ideal folding saw for hunters, pruning, campers or wildlife enthusiasts. These features give this saw our highest rating and recommendation.​
Which is your most preferable folding saw?
---
Image credits: Amazon.com