3 Best String Trimmer Head You Need to Buy
We all have or favorite tools. Others would go for pruning scissors, some hand shovel. My pick would be the weeder. You may find it weird, but I get calm and relaxed every time I work in the garden, including removing weeds.
If we share the same preference, I am sure you are also interested to have the best string trimmer head handy just in case the one you are using retires. I will be happy to assist you along the way.​
More…
3 Best String Trimmer Head You Need to BuyA Discourse about String TrimmersIdentificationAdvantages​Power SourcesHow Does a String Trimmer WorkImportant Parts to Consider before Buying String Trimmer3 Best String Trimmer Head#1 – Echo 99944200907 Speed-Feed 400 Universal Trimmer Head#2 – Oregon 55-265 Speed Feed 2 Line Trimmer Head 4 1/2 Inch Straight Shaft#3 – Tanaka 32308 No Brainer Quick Load Cutting Head for Straight Shaft String TrimmersConclusion
​In this article we will discuss:
What a string trimmer is
What are the different kinds of string trimmer
What are the different kinds of string trimmer
What Should we Consider when Buying String Trimmer head, and
What is the best String Trimmer Head on the market
Contents
A Discourse about String Trimmers
Identification
There are different names for string trimmer. In the United Kingdom and Ireland, it is known as the strimmer. Australians call it line trimmer, and people in various localities would call it weed-whacker, weed-whip or whipper-snipper.
Technically speaking, this tool aims to cut grass and plants. Now, I can imagine you saying why should I buy one when I already have hand weeders. There are specific benefits of the weed-whip.
---
Advantages​
First of all, the weed-whacker is safer to store compared to other grass removal tools because it does not have blades.
This utility is also low-maintenance. Just imagine, you do not have to buy disks and gears to accomplish your task. In the same light, since you are going to deal with less steel, no oiling and drying are necessary.
Weed-whips can cut grasses easily even if the terrain is uneven. With this tool, you can even cut vertically if needed.
---
Power Sources
A string trimmer may be powered by gas, electricity, and battery.
Previously, the only option is to use of combined gasoline and oil to get the weed-whacker in operation. But because of environmental concerns, innovations were carried out. Gasoline-fueled whipper-snipper contributes a hefty amount of air pollution because of the emissions coming out of it.​
​Because of that, they have developed electric edge trimmers. That are technically lighter but has lesser torque compared to a gas-powered trimmer. It is eco-friendly as well as it does not produce unhealthy emissions.
Again, they food a loophole that needs improvement – the cord connected to the string trimmer. Hence, battery-operated weed-whips were born. The ability to be charged before use makes it work even without plugging it into an electric outlet. This, therefore, eliminated all the mobility restrictions from the operator's side.
---
How Does a String Trimmer Work
Kindly check this video I found on the internet to understand the mechanisms behind your weed-whacker.
Important Parts to Consider before Buying String Trimmer
Hopefully, the brand of your string trimmer offers replacement parts. Always bear this in mind when you purchase gadgets. Ask your sales representative if the parts can be substituted or replaced when it gets broken. Ask them too if the parts are readily available on the market.
​Make sure that the head fits your gadget perfectly or else it will just be a waste of money. Check the ease of use when it comes to installing it and in putting the cord. It would be best if it comes with screws and adapters in different sizes.
---
3 Best String Trimmer Head
**Below, you'll find our more detailed reviews, but you can also click the links below to see current prices or read customer reviews on Amazon.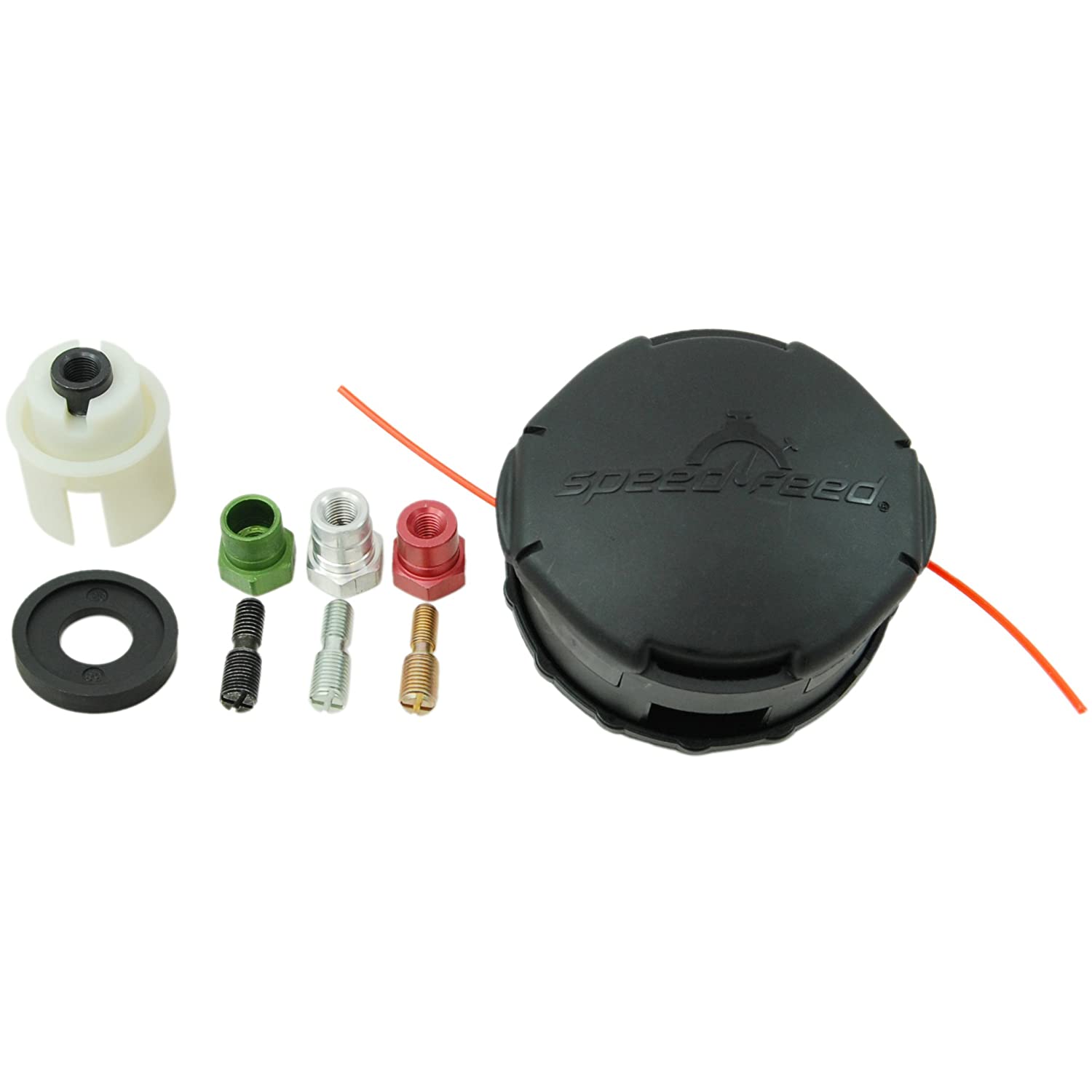 This head can be utilized for different kinds of string trimmer but not all. I love the shape of the cover since it allows me to go down without having to put more angle between the shaft and soil. The design lets me cut the grass shorter compared to others
What we like:
Fits curved or straight string trimmer shafts
It has different trimmer adaptors
Easy to install
What we don't like:
Does not fit all weed-eaters
If you have problems loading new line every single time, you might as well change your head with Echo 99944200907 Speed-Feed 400. Trimming would then become faster because you do not have to invest too much time getting ready.
---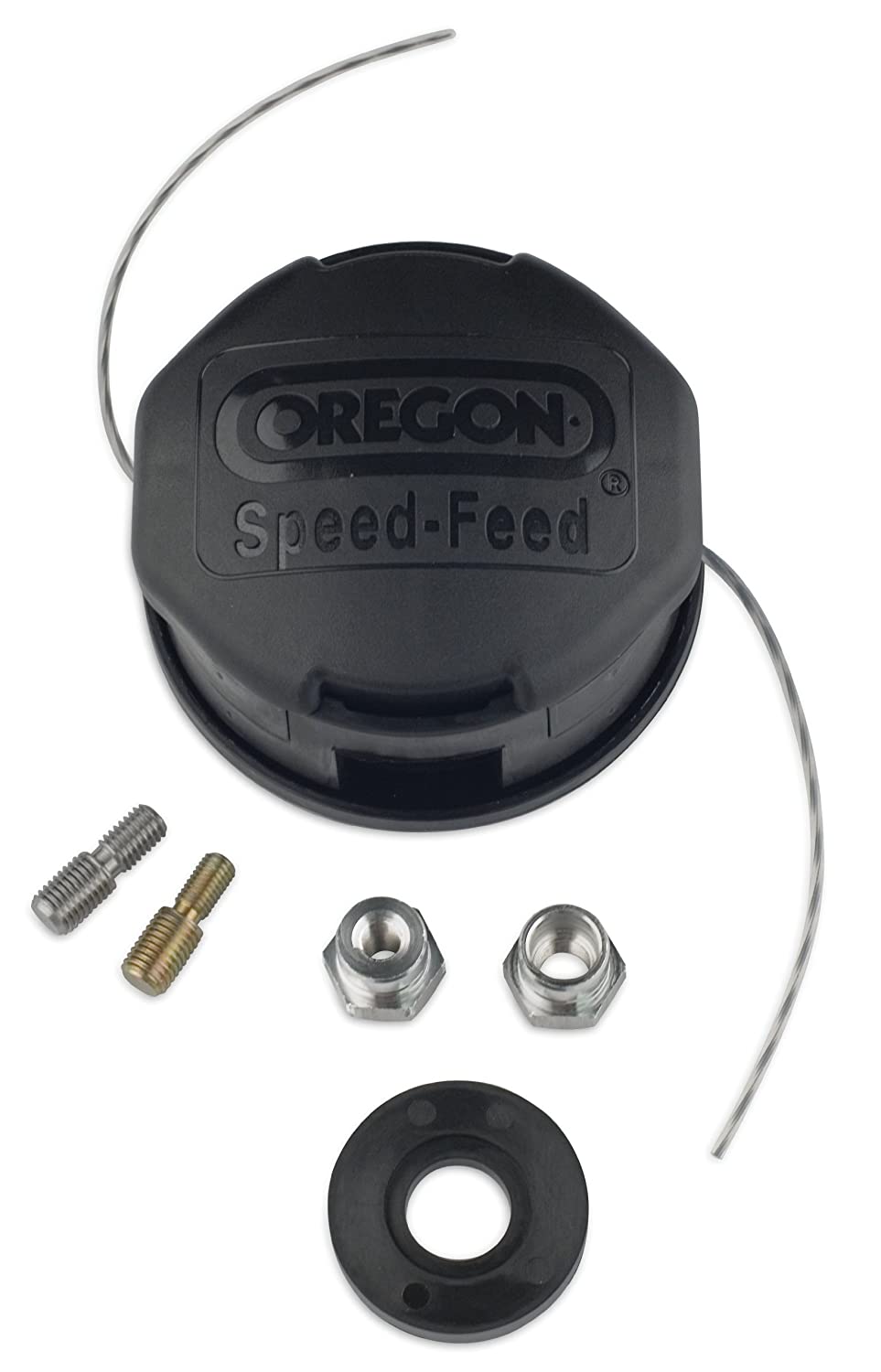 This trimmer head is made up of heavy-duty materials allowing you to enjoy its service longer compared to others. It has a commercial grade level which means it is sturdier.
What we like:
Fits majority of weed-whacker brands
Prevents your trimmer line spool from getting tangled since it only has 2 lines
What we don't like:
If you have a large area of grasses to trim, this would be your best bet. The high-grade quality will allow you to use it longer with fewer complications.
---
This trimmer has a right hand threads which could be incompatible to other string trimmers. The manufacturers made installation so easy for everyone. The product would just require you to push, replace the line, cut and you are good to go.
What we like:
Comes with several adapters to fit different kinds of trimmers
Comes with 6 strips of line
Push and slide maneuver to replace string line
What we don't like:
Might have problems with the direction of the threads depending on your brand
Lesser time to install the product will allow you to have more time to work. This is the best reason why I included this product on my list. If it fits your shaft it will work perfectly fine.
---
Conclusion
A broken string trimmer can cause stress to us gardeners. When buying your equipment make sure that you have a very sturdy product. Weed-whippers rely on their head to serve their purposes.
Without further ado, I would like to inform you, that I choose Tanaka 32308 No Brainer Quick Load Cutting Head for Straight Shaft String Trimmers as the best string trimmer head of 2017.
As a recap, here is a table that will present our overall feedback:
Product Name
Quality
Price
Our Rating
#1. Echo 99944200907 Speed-Feed 400 Universal Trimmer Head
A+
$$$
#2. Oregon 55-265 Speed Feed 2 Line Trimmer Head 4 1/2 Inch Straight Shaft
A
$
#3. Tanaka 32308 No Brainer Quick Load Cutting Head for Straight Shaft String Trimmers
A
$$
Although we gave an A+ quality for our first suggestion, it comes with a hefty price tag. This made me choose the Tanaka Quick Loading Cutting Head instead. A perfect product that will justify the amount of money you will be shelling out. It is durable, affordable and most of all setting this up is very stress free.
Click here to purchase Tanaka 32308 on Amazon
You might also want to check these out to complement the use of your strimmer:
Husqvarna 639005102 Titanium Force String Trimmer Line .095-Inch by 1/2-Pound Donut,
Echo 6450001 Power Blend 1 Gallon Oil Mix (50:1) and
No-Spill 1415 1-1/4-Gallon Poly Gas Can​
Now that you have your trimmer head, let me just give you few reminders on how you can maximize the use of your tool safely:
Read user's manual
Wear personal protective equipment
Make sure that there are no bystanders, especially children, near you.
Direct the trimmer away from breakable items like windows of houses and cars
I hope I was able to help you decide which string trimmer head you need to buy as a replacement or as a backup. Please tell us what you think in the comment box.