What Is the Best Chipper Shredder for Your Yard?
Chipper shredders, also known as wood chippers and tree chippers, are devices used to grind up brush from you yard into small wood chips. They can range from enormous trailers to personal chippers for your yard. Right now, I want to focus on the smaller, personal models and help you find the best chipper shredder for your yardwork needs.
More…
What Is the Best Chipper Shredder for Your Yard?What Does a Chipper Shredder Do?How Do Chipper Shredders Work?​How to Choose the Best Chipper Shredder for Your Needs​Organic materials in your yardSize of the debris in your gardenPower source (Electric, gas, PTO)BudgetType of shreds/mulch createdNoise generatedSize of the machine itselfTop Best Chipper Shredder Reviews#1.  Worx 13 AMP Electric Leaf Mulcher#2.  Tazz 212cc K32 Viper Engine Chipper Shredder#3.  Flowtron LE-900 Electric Leaf Mulcher#4.  Earthquake 205cc Chipper Shredder#5.  Sun Joe 14-amp Electric Chipper ShredderConlusion
Contents
What Does a Chipper Shredder Do?
What do you do when you have a huge brush pile or a bunch of bags of leaves in your yard? It's easy to just leave the natural debris piled in one area and keep it until it eventually rots down, or to burn it, but these methods don't do much to help your yard. This is where a chipper shredder comes in handy.
These machines are designed to rind down small tree limbs, sticks, leaves, grass clippings, and other yard debris into tiny chunks that can then be used around your yard. In this way, you can make your own garden mulch or help a compost pile to decompose more quickly. If nothing else, it's easy to spread a layer of thin, organic materials in the yard and have it break down faster than large pieces or piles.​
How Do Chipper Shredders Work?​
​Most chipper shredders have a central grinding mechanism with either one or two arms leading to it. When there are two arms, one is usually used for large brush and small tree limbs while the other is for thinner debris such as leaves and twigs. Some models are built with one arm leading to the grinding mechanism, but this is not as common in newer models.
​The ground up pieces are deposited into a collection bag or straight onto the ground, depending on what you want it to do.
How to Choose the Best Chipper Shredder for Your Needs​
​So, how do you find a chipper shredder that's going to work well in your yard and will help you solve your particular needs? Here are some of the things you need to look at:
Organic materials in your yard
Some chipper shredders are only meant for certain materials and cannot handle general yard materials. Other devices can handle pretty much anything you can fit into the grinders (as long as it's organic!).
​Depending on what's in your yard, you can choose a more or less powerful machine to get the job done. If you only have leaves in the yard, a mulching chipper shredder will be fine for you. If you have sticks or any kind or tree limbs, you will need a shredding or chipping model instead.
Size of the debris in your garden
This goes along with the first point. Not only does the type of material matter, but the size of the material you need to shred can make a big impact on your final choice. Larger debris like small lumber and brush requires a different sort of chipper shredder than leaves and grass clippings.
Power source (Electric, gas, PTO)
There are three different types of chipper shredders, based on their power supplies: electric, gasoline, and PTO (power take-off). PTO chipper shredders hook up to tractors exclusively, so we will not really be discussing them in this article.
However, both electric and gas chipper shredders are common and can be found in a variety of sizes and styles. Electric models are efficient, lighter, and capable of taking care of a lot of smaller debris around your yard without any trouble. However, they are noticeably weaker than gas chipper shredders, and cannot move around to as many areas because of the cord that plugs them in for power.​
Gas models are more powerful and capable of moving around anywhere in the yard. They can devour many small tree limbs and will take care of much of the stuff around your yard. But, gas chipper shredders are far louder than electric, they are heavier, and they are usually less environmentally friendly.​
Budget
Don't get too caught up in what you want without first remembering that you can only spend so much! I would encourage you to write down your estimated budget beforehand and then to stick to it. This will help you look for the best deals for your money.
Type of shreds/mulch created
Those looking for a certain time of shreds needs to be careful what to buy. If you want to use it well with a personal garden, most electric units are perfect for personal yards. Gas models will be able to shred materials into larger pieces, not mulch or small chips.
Noise generated
Gas chipper shredders will always be quieter than their electric counterparts. Most electric models are very quiet, while gas models are extremely loud. Choose what you want based on how much your ears can handle.
Size of the machine itself
When it comes to storage and mobility, the size of the chipper shredder makes a difference for you. Check on this factor before buying, especially when space is limited in your case.
Top Best Chipper Shredder Reviews
#1.  Worx 13 AMP Electric Leaf Mulcher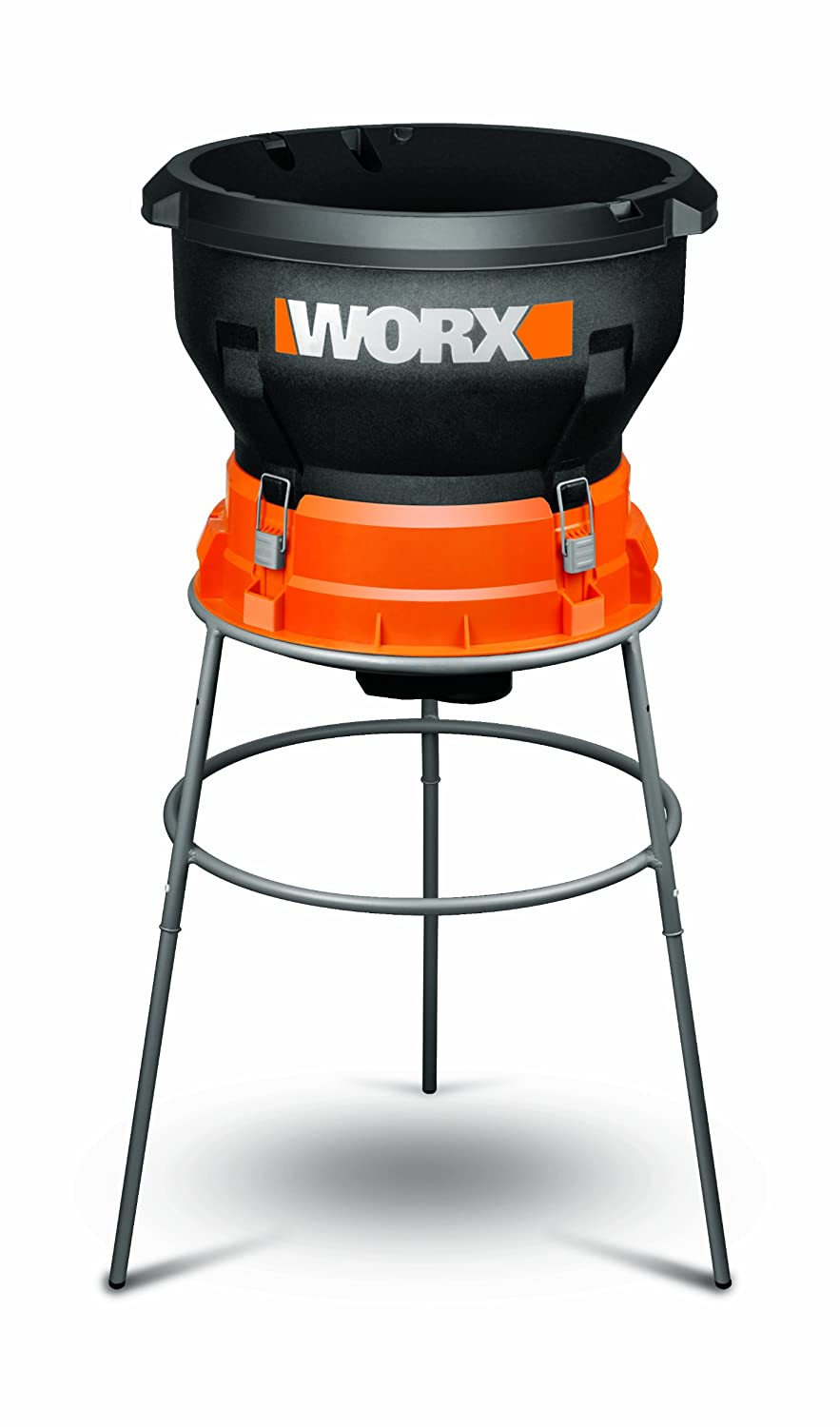 Mulching leaves in your yard isn't really a fun task, but this machine makes it a lot easier than many others. It can mulch up to around 50 gallons of leaves per minute, as long as you feed them through the opening properly to avoid clogs. The Worx leaf mulcher deposits ground up leaves directly into a bag or container underneath the device.
Keep in mind that this is a simple leaf mulcher, and it works with the same plastic filament wires as a weed eater. That means that while it is easy to replace that blade, it also renders this machine incapable of cutting through sticks or twigs. It is most useful for dry leaves, as wet leaves may also begin to clog up the cutting line if they are fed through too quickly.
Overall, this mulcher makes it easy to get through a large amount of leaves very quickly, and it makes disposable very simple. When you're not using it, this device is compact for stress-fre storage. You can use the ground leaves as a perfect mulch for your garden, or throw the piles into your compost to have them very quickly decompose into useful ingredients for the soil mixture.
What we like:
Line replacement is easy, and you can use standard weed eater line
Works well to shred leaves for compost
This unit is very simple to set up, even without instructions
Durable unit that stays in useful working condition for years
Excellent value for a low price
Light weight makes it portable for use around the whole yard
What we don't like:
Shredding may generate a lot of dust from dry leaves
Difficulty mulching moist or wet leaves, works with dry leaves only
Doesn't work well with even the smallest twigs and sticks
#2.  Tazz 212cc K32 Viper Engine Chipper Shredder
This chipper shredder has a powerful gasoline engine that helps it to chew through many different types of organic yard waste, including small tree limbs and branches. The 212cc motor is small enough so that the device is still easy to move around your yard, making it a good tool for general yardwork and debris cleanup.
​This is not, however, a large enough unit to use commercially or to help with cleanup of downed trees. Any limbs thicker than 3 inches in diameter will not be able to be ground by the blades. In addition, wet leaves do not work well with the blades, so it's best to avoid trying to shred a lot of these at once if you don't want to clog up the blades.
​Soft and hard wood can all be ground up by the blades, as long as the limbs or sticks are the right size for the machine. Whether the branches have been drying out on the ground or are freshly fallen, this chipper shredder can handle the workload.
What we like:
Engine comes with a 5-year warranty from the manufacturer
Compatible with some attachments, such as the optional vacuum attachment (not included with the machine)
Zippered scrap bag is included with the purchase
Solid wheels make it easy to transport this device around any terrain
Works well on fresh cut branches as well as dry wood up to 3 inches in diameter
What we don't like:
Machine will vibrate a lot if you feed thick, dry wood limbs through it
Too many wet leaves at once can clog the machine
#3.  Flowtron LE-900 Electric Leaf Mulcher
Leaf mulchers are really useful for the average homeowner with a few trees around the yard. If you're not having to deal with a lot of sticks and larger debris in your garden, this Flowtron mulcher could work well for you. It spins a thin plastic line similar to that of a weed eater, and chops through leaves as your feed them through the entry valve.
Wet leaves can be a problem for this mulcher, as well as thick, sturdy leaves such as those from oak trees. Because these and a few other types of leaves are very strong, they are harder for this machine to handle, as it's only meant for light work, not heavy duty cutting.​
It's recommended that if you have a lot of trees around your yard, you should get a larger model than this to deal with the sticks and limbs. However, if you want to add mulch to your garden, create a healthier compost, or decrease the number of bags you use then this is a great choice for you.​
What we like:
1 year limited warranty for the product
Ideal for leaves of all kinds and some grasses and weeds
Helps you to condense leaves to fit more easily into bags
Easy to store and move around the yard as your go
String filament is easy to replace when it's broken or shortened
What we don't like:
Not effective for heavy duty yardwork
Assembly may take some time to get right
Leaves should be fed into the grinder slowly
#4.  Earthquake 205cc Chipper Shredder
Efficiency is what you get from this chipper shredder, as it's designed to easily rip through almost anything that will be in your yard. Tough leaves, tree limbs up to 3 inches in diameter, and weeds or brush from around the yard won't be an issue for this Earthquake 205cc chipper shredder.
​The biggest issues with this model are some of the design flaws that should have been addressed when it was created. Specifically, it is a bit awkward to move around because it's heavy and has poor quality wheels to roll on outdoors.
Debris from this machine will to caught in the large bag that comes with the purchase. You can also remove that bag and use plastic bags for leaves and other shredded things, but the included bag is great for catching even sharp or thick shredded brush.​
What we like:
20:1 reduction ratio for waste
Debris catching bag is included with the purchase
Easy assembly for this machine
Usually starts within 1 engine pull
Good for brush from trees and shrubs
What we don't like:
This chipper shredder is heavy and a bit awkward to store or move
Top feeder can throw a lot of scraps and produce dust from dry leaves
#5.  Sun Joe 14-amp Electric Chipper Shredder
Although this is an electric chipper shredder, it has a lot more power than it seems. The motor that powers the blades can handle a wide range of brush and trees limbs, including those up to around 2 inches in diameter (fresh, not dry wood). It also works very well on many types of leaves, helping you to grind them up for mulch or easier waste removal.
​Unfortunately, the manufacturer did not design this machine perfectly for all uses. The feed nozzle is a bit awkward and can make it difficult to insert a handful of leaves or a straight branch, stick, or tree limb of any kind. It mostly avoids jams, but wet materials can make jams happen more frequently. However, it's easy enough to open up the machine and reach the jammed areas to clean them out.
If you have a lot of work to do around your yard, without a lot of thick tree limbs to grind up, this is a great chipper shredded to consider. It's quite easy to move around your yard and can handle almost anything you will throw at it.​
​
What we like:
Safely designed to help avoid injuries during use and maintenance
Full 2-year warranty from the manufacturer
Great for long hours of work on small-medium sized yard brush
Works well on woody plants and fresh, small tree or shrub limbs up to about 2 inches in diameter
Motor is more powerful than it seems and can handle a lot of work
What we don't like:
Doesn't work well on high fiber brush, such as bamboo
This machine can jam easily if you feed too quickly or try to shred wet materials
Poorly designed brush feed nozzle makes it difficult to insert leaves and sticks.
Conlusion
Tazz 212cc K32 Viper Engine Chipper Shredder
Out of the above reviewed machines, my opinion is that the best chipper shredder is the Tazz 212cc K32 Viper Engine Chipper Shredder. This is just an all-around useful machine that's heavy duty enough to take care of almost any organic materials that will fall into your yard. It's powerful, portable, versatile, and gives you a lot of value for your money, which makes me think it's the best chipper shredder for most people who are looking around the market!